Paradise Beach – Adam's Eve apartments.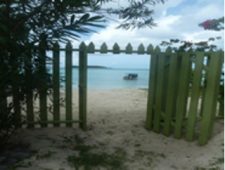 Adam's Eve is a guesthouse situated on Paradise beach, Carriacou.
There are 3 x 2 person apartments and 1 x 4 person apartments. Apartments have shower/AC and living room/kitchen.
All apartments are self-contained with TV, DVD player, fan, table top stove and fridge / freezer.
Prices range from $50us – $100us per night, price for longer stays can be negotiated. Meals are provided upon request.
There is also a bar available with TV/DVD and music.
Adam's Eve guesthouse is on beautiful paradise beach, one of the best beaches in the Caribbean, opposite world famous Sandy Island, Marine Park.
There are bars on the beach and boat trips can be arranged to Sandy Island, White Island and Tobago Cays.
Contact the owners.
Recent Ratings
Vote
from on
Vote
from on
Vote
from on
Vote
from on
Vote
from on