Arawak dive instructors and diving operator in Tyrell Bay.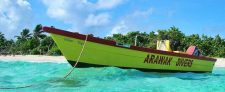 Arawak Divers are the most experienced, dive operators in Carriacou with diving around the island of Carriacou since 1994.
You don't have to be a diver to enjoy a trip with us.
We also offer
private boat charters
for you and your family for mangrove, snorkel, sight-seeing tours or trips to Sandy or White Island !
Create your own, private adventure with us.
Private charters are the ultimate vacation experience.
Our exceptional service ensures that you enjoy your vacation.
We emphasize a "no rush" attitude, as we want to give you the best dive vacation possible, in the waters around Carriacou, the 'Island of Reefs'.
Our comfortable PADI Dive Resort is located on the beachfront in Tyrrel Bay.
On the southern end of the island at 'After Ours'.
Send Email to Arawak Divers.
Recent Ratings
Vote
from on
Vote
from on
Vote
from on
Vote
from on
Vote
from on