Blue Marlin apartments is for sale.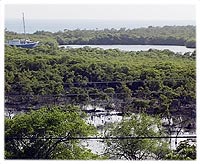 The Blue Marlin is a beautiful new building with tropical garden and family atmosphere.
Blue Marlin is no longer opened.
This property is for sale.
We are located in the French village of L'Esterre overlooking Tyrrel Bay, Kickem' Jenny, and the island of Grenada from our Roof Terrace with BBQ and Bar.
Location  on the map is not exact yet.
Please send our administrator the exact coordinates and more info.
The famous Paradise Beach as well as shopping and restaurants are all within ten minute's walking distance – turn left to Harvey Vale/Tyrrel Bay; turn right to L'Esterre.
Send the owners an email.
Recent Ratings
Vote
from on
Vote
from on
Vote
from on
Vote
from on
Vote
from on