Sparrow Bay – Blue water villa for rent.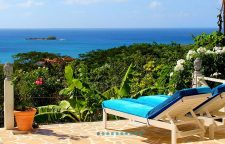 Located just a short stroll from a small secluded beach on the Leeward side of Carriacou, you're never more than a few minutes away from a refreshing swim in the calm waters of Sparrow Bay.  
Vacation rental.
This three bedroom, three bath, oceanview Carriacou vacation rental has been designed with an eye to breathtaking vistas.
Casual laid back living, both indoors and out.
Swimming pool.
The terrace doors open out to an expansive and very private 1200 SF deck with outdoor living and dining areas, stone edged swimming pool and sun deck.
Beautiful 180 degree, West facing ocean and island vistas, stunning year round nightly sunsets and a 24/7 wildlife show of birds and iguanas all viewable from the deck .
Ceiling fans in every room along with air conditioned bedrooms and louvered screened windows take advantage of the prevailing easterly trade winds to ensure your comfort.
Recent Ratings
Vote
from on
Vote
from on
Vote
from on
Vote
from on
Vote
from on