Carriacou Marine boatyard in Tyrell Bay – Harvey Vale.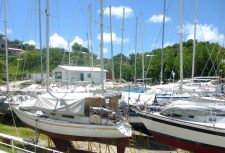 Strategically placed on Tyrell Bay, Carriacou's premier yacht anchorage, the Yacht Club caters specifically to the needs of the discerning Caribbean traveller. Our features within a self contained complex combine high levels of comfort with the finest services for guests and visiting yachts.
The Carriacou Marine boatyard.
Come visit our small environmentally friendly yacht haulout facility located in the scenic Tyrrel Bay in the beautiful and friendly island of Carriacou, at the center of one of the world's best sailing grounds, the  waters of the Grenadines.
Tyrrel Bay is a natural protected mooring just a 15 minutes taxi ride  from Carriacou's Lauriston airport or the Osprey ferry dock in Hillsborough.
Our experienced, and friendly crew will do what it takes to provide you with an excellent service and will look after your boat as if it was their own.
Starting July 2013, Carriacou Marine is the new port of entry and exit for Yachtsmen and their crew entering and leaving the state of Grenada.
Customs and Immigration office.
The Customs and Immigration office within the Yacht Club premises will simplify entry and exit procedures allowing visiting Yachtsmen to take advantage of the facilities.
The Yard office is open 8am to 5pm, 6 days a week, we can also be contacted on VHF Channel 16/68, we have a 50-ton Marine Travelift which can lift boats with a beam of up to 18 feet and a length of up to 60 feet.
Full service and, maintenance.
In our facility we provide full service and, maintenance, and storage needs.
Night security is provided and restrooms, full service washers & driers and free internet access are some of the services we provide for our guests.
In addition for your convenience we have an Island Water World & duty-free chandlery on site .
And we also supply Budget Marine spares and equipment.  Our office services include printing, copying and fax services, and we also arrange flight connections and transportation.
We work with a highly skilled local team of engineers, sail makers and mechanics who provide many services and can handle most repairs and maintenance tasks.
Carriacou Marine offers a wide range of services to it's customers.These services are done by the employees of the yard in cooperation with specialist subcontractors.
All work is carried out with special attention  to the environment  and protection measures are applied, all in compliance with the Grenadian regulations.
Amongst the services we offer:
50 Ton travel lift for Hauling in and out
Boat washing, hull scraping, and Anti-foul sanding
Antifouling bottom paint work
Storage with Tie-downs (short & long term storage)
Dinghy storage, special storage lockers
Engine rinsing
Hull waxing  & Polishing
Engine mechanics
Sail Repairs
Dock mooring
3 hour haulout  for quick hull check or pressure wash
Sourcing of any chandlery item  that we do not stock
Designated area for do it yourself visiting yachtsmen
Provisioning, all your requirements delivered to your yacht before you arrive
The facilities we currently offer include: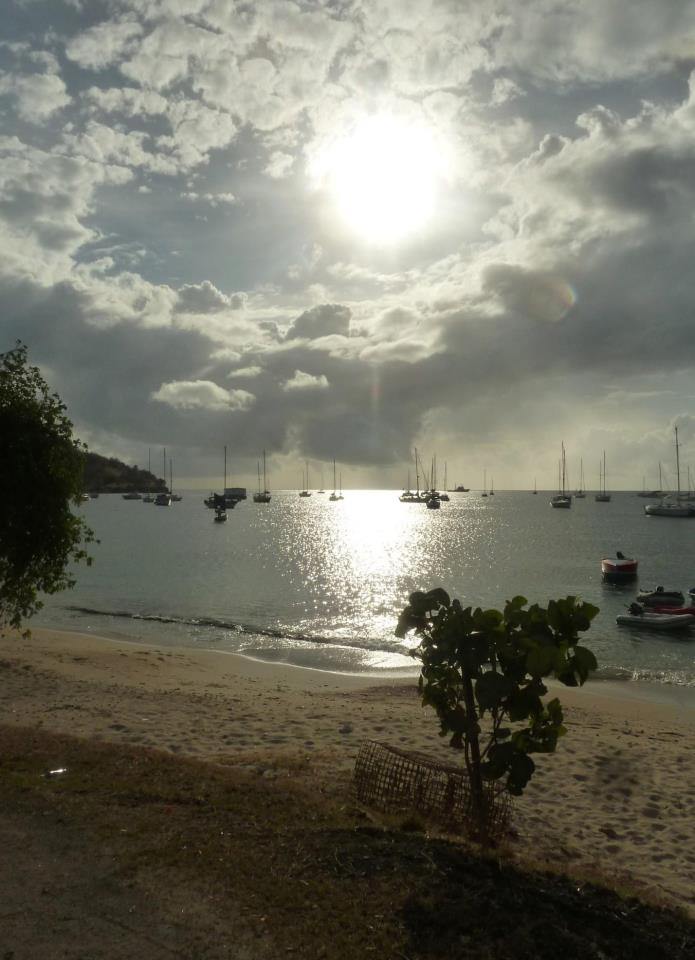 Fresh water and ICE
Electricity 220/240V  and 110V
Night Security patrols
Chandlery
Showers
Laundry
Accomodation
Convenience store
Customs & Immigration Office
On site car parking
Free Wi Fi
Send email to the yacht harbour.
Recent Ratings
Vote
from on
Vote
from on
Vote
from on
Vote
from on
Vote
from on