Belair – Grand view hotel and restaurant.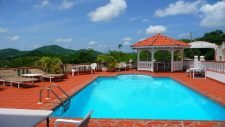 Situated on the Belair Road the Carriacou Grand View Hotel offers a great view of Hillsborough town, harbour and hillside. We invite you to a world of peace and calm. Relax in our beautifully landscaped tropical gardens, swim in our fresh-water swimming pool or enjoy a special cocktail in our piano bar.
Up the hill towards Belair.
The view is well worth the short walk up the hill. Book the gazebo table and enjoy fresh seafood while watching the sunset.
Cold drinks and beer and wine by the glass available.
Our Exquisite Restaurant serves up a variety of Caribbean and International Cuisine or savour an intimate Poolside Dinner.
Accepts Visa and Mastercard.
Our Piano Bar opens till 10:00 pm and offers a wide selection local and exotic wines, spirits and fruit juices etc. Our pool is a great place for a cooling swim.
Grandview Hotel Nature has provided a unique setting for this breathtaking 14 room/apartment Resort with a commanding view of the Hillsborough Harbour and Town
Send Email.
Recent Ratings
Vote
from on
Vote
from on
Vote
from on
Vote
from on
Vote
from on