Paradise Beach – Hard Wood bar.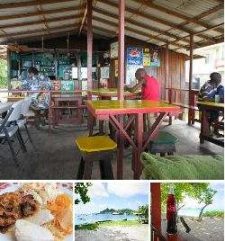 Sweet service & lovely fresh simple food. Come in and have a couple of beers at Joy's Place!
Bar and Snacket – Paradise Beach.
Start here if you want to go over to Sandy Island, they have a water taxi service to bring you there and pick you up at the appointed time.
Pleasant spot for a beer or other while waiting or on your return.
Don't expect western restaurant extras , very reaonable prices.
Best on Paradise Beach for friendly welcoming, honest food at a very reasonable price.
Locals eat here for good reason.
Recent Ratings
Vote
from on
Vote
from on
Vote
from on
Vote
from on
Vote
from on