Prospect – Kido Ecological research center and Turtle Monitoring.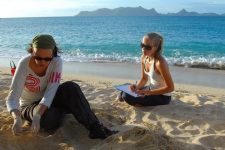 Secluded oasis on a forested ridge on the north western coast of Carriacou. Guided environment tours, possible volunteering on ongoing ecological conservation Projects and cultural exchange programs for groups. Our main house has two bedrooms and a large pagoda for groups.
Eco lodging facilities.
Join the YWF-Kido Foundation to make a difference in Grenada! Located at the Kido Ecological Research Station (KERS) in Carriacou Island.
We are looking for Volunteers to participate in Kido Foundation Sea Turtle Monitoring and Tagging Programme.
Location of the premises is not exact yet.
Please send our administrator the exact coordinates and more info.
Volunteers will actively participate in monitoring and data-collection of 2 critically endangered Sea Turtle Species
Leatherback and Hawksbill, nesting on 3 different beaches on the Island; helping to prevent poaching activities of turtles and eggs. (From March to August)
Duties:
Night patrolling in the High North proposed National Park area, from 8pm to 6am, 5 nights a week.
Assisting local guides tagging post-nesting turtles, carapace measuring & other data collection, and turtle tracks and nests disguising.
Recent Ratings
Vote
from on
Vote
from on
Vote
from on
Vote
from on
Vote
from on