High North Carriacou – La Pagerie villa for rent.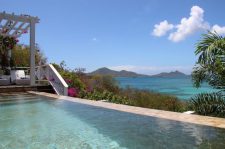 Luxurious Villa with private pool. Located in the national park at the north of Carriacou. Five bedrooms ensuite plus a seperate apartment. Suitable for a total of ten guests.
Villa La Pagerie.
A French colonial style beachfront villa.
Situated in the North Natural Park of Carriacou.
This is the most southern isle of the Grenadines Archipelago, a true sailing paradise.
The house is built on a half acre planted and flowered garden.
Above a secluded coral stone and sand beach.
Spectacular coral reefs encircle a natural sandy pool
The reefs are home to many tropical fish species.
La Pagerie offers five en-suite bedrooms with their own bathrooms.
Vanilla and Cinnamon on the ground floor.
Nutmeg, Pepper and Ginger are rooms on the upper floor.
In addition there is one independent studio on the basement level.
This stuudio is equipped with two single beds and has its own bathroom.
The villa is ideally fit for a party of ten guests.
Verandas all around the villa provide an agreeable shade.
The tradewinds naturally temper the atmosphere at all times.
A large sun and pool deck continues the spacious living room towards the sea, thirty feet under.
Contact the owners.
Recent Ratings
Vote
from on
Vote
from on
Vote
from on
Vote
from on
Vote
from on