Hillsborough North – La Playa beach bar and snacks.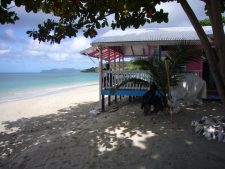 This is a small locally owned place on the beach of Hillsborough. Burgers are worth a try. The bar is reasonably priced.
Beach Bar and Bistro.
We offer Cold Beers, Cocktails, Mixed Drinks and Fresh Juice to Ease Your Mind.
This bar is on the beach north of Hillsborough.
The management is by Green Roof Inn, a restaurant and hotel close to this bar.
Homemade Cheeseburgers with crisp Fried Potatoes.
A variety of sandwiches.
Cake of the day served with Fresh Fruit and Whipped Cream.
BBQ in the evenings including Sea Food and Steaks.
Recent Ratings
Vote
from on
Vote
from on
Vote
from on
Vote
from on
Vote
from on