Harveyvale – the Lambi Queen restaurant.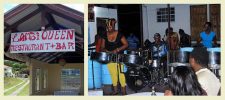 Restaurant and bar in Harveyvale – live music.
Calalloo, Lobster and local specialities.
Sherwin is a great owner who works very hard to see that his customers are happy and having a good time.
Hire Sherwin from the Lambi Queen and let him organize your transportation, fresh lobster BBQ and rum drinks for an unforgettable experience on a beautiful deserted island.
There isn't a lot of nightlife on Carriacou, but the Lambi Queen hosts a steel pan and al-fresco disco evening every Friday night.
Recent Ratings
Vote
from on
Vote
from on
Vote
from on
Vote
from on
Vote
from on