Paradise Beach – Off de hook beach bar and restaurant.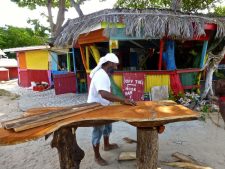 Beach bar and restaurant on Paradise beach Carriacou. Wednesday night is party night here.
Beach restaurant – Paradise Beach.
This beach is probable the best of Carriacou, and the location of the beach bar is very good.
Quite reasonably priced drinks.
On wednesday there are parties with local music, great bonfire, and fantastic freshly caught grilled lobsters as big as your heart desires!
Curtis the owner is a welcoming host.
It may take some effort to find this place but persevere, it is worth it.
You'll feel like you fell into a Corona commercial or a screensaver most people only dream about.
There is nothing fancy or chic about this place, but if you want authentic, fresh, island-paced hospitality, look no further.
Recent Ratings
Vote
from on
Vote
from on
Vote
from on
Vote
from on
Vote
from on