Siver Beach – Villa SandX.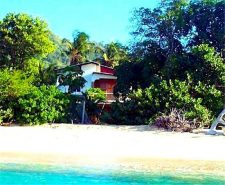 House right on the beach near Hillsborough. The villa can acommodate up to eight guests. Holiday home with a basic interior but in contrast located at a perfect position.
The SandX beachfront house.
This villa is located on Hillsborough Bay.
There are 2 bedrooms on the lower level.
The upper level has a further 2 double bedrooms and a private balcony.
The house has Internet, Cable TV & Phone
Furthermore there is a  DVD player and a washing machine.
The villa is quite literally a few footsteps from the unspoilt shoreline.
Hillsborough Bay is dotted with villas, but the beach remains largely unspoilt and uncommercial.
The kitchens, there are 2 one on each level are well equipped.
They provide all the basics required to prepare family meals.
SandX villa as afordable Island Base.
This villa is ideal for travellers on a budget.
It is very affordable for a group of up to 8.
The house is also available as an option for 2 guests at a reduced rate.
Flexible Apartment Style Interior.
This villa is perfect for a larger or smaller group.
It can be let as 2 x separate apartments.
Both apartments have separate entrances and each with a private balcony.
A pair of couples each with 2 small children would be perfect as guests.
Recent Ratings
Vote
from on
Vote
from on
Vote
from on
Vote
from on
Vote
from on