Harveyvale – Slipway Restaurant at the boatyard.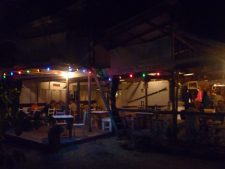 A restaurant located in a former boatyard – creatively built around the in-situ machinery which now forms part of the eclectic decor and adds to the friendly relaxed atmosphere at Slipway Restaurant Carriacou.
Slipway Restaurant is located in Tyrell Bay, on the southern tip of Carriacou.
Comments on tripadvisor.
Our chalkboard menu is small and changes on a daily basis depending on the availability of local ingredients
We always have a seafood dish on the menu alongside our meat dishes.
Vegetarian dishes are available by special request when you make your reservation.
Send Email to the Slipway restaurant.
Getting here.
Get here Walking
Just walk down the beach in Tyrell Bay and you will come across our restaurant at the far end, next to the boat yard.
Driving (click on the map to enlarge it)
Drive along the road to Hermitage and you will see our sign on the right hand side of the road. It is a sharp bend so we advise driving a little further along to turn around and then approach the road down to the restaurant from the left.
We have ample parking and ask that you close the gate to the restaurant car park on your way in and when leaving. Thank you.
Sailing.
We have a dingy dock just outside the restaurant where you can tie your dingy securely whilst you dine with us.
Recent Ratings
Vote
from on
Vote
from on
Vote
from on
Vote
from on
Vote
from on