Cuthbert Snagg boattrips and water taxi.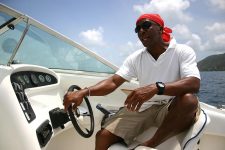 Snagg offers more than only tours.
Water Taxi to Sandy Island and the Tobago Cays.
yacht tours.
concierge service.
boat repairs.
boat maintenance.
emergency assistance.
courier.
customs clearance.
environmental education.
group or individual hiking tours (hashing).
custom built model boats.
Water Taxi.
Let Snagg take you to the Tobago Cays, you will love the experience.
Want to discover the island? Cuthbert is you man to guide around.
Recent Ratings
Vote
from on
Vote
from on
Vote
from on
Vote
from on
Vote
from on