Craigston – Sparrow Beach Villa for rent.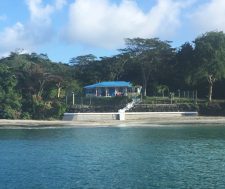 Three bedroom villa for six. Direct on Sparrow beach in the Craigston area. Superb location at the seafront.
Sparrow Beach House.
The perfect villa for holidays.
This luxury home is directly on Sparrow Beach.
It is a spacious open style 3 bedroom/3 bath property.
The house is completely fenced for privacy.
Tropical gardens.
A yellow exterior with contrasting blue wooden shutters.
Set in a lush tropical garden it gives a Caribbean feel even before entering.
The interior is exquisitely decorated in tropical shades of yellow, blue, beige.
Touches of flamingo and artwork that was specifically selected to compliment the look.
Sparrow Beach house has the feel of a Caribbean getaway.
This holiday home has recently been completely redone.
Situated in the much sought after Craigston Estates.
Sparrow Beach House is tucked away on a cul de sac for privacy.
No wonder why it is referred to as the 'perfect romantic beach hideaway'!!
Recent Ratings
Vote
from on
Vote
from on
Vote
from on
Vote
from on
Vote
from on