Harveyvale – Sundowners bar and food.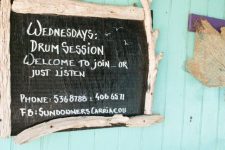 Bar and restaurant in Harvey Vale. Drum sessions each wednesday.
Bar and snacks.
Cuisines: Jamaican, Swedish, International.
If you are passing Tyrell Bay you have to visit this great little place: a bar & restaurant with an absolutely fantastic location.
It offers simple but absolutely delightful dishes.
The staff are wonderfully friendly.
Is simply worth a detour and an overnight anchorage in Tyrell Bay.
The owners are fantastic, the bar is perfectly placed with a beautiful view over Tyrell Bay.
You can get nice cool drinks, for example their own Rum punch or a nice beer.
Location  on the map is not exact yet.
Please send our administrator the exact coordinates and more info.
Homemade bread, a tasty hamburger, fish, catch of the day or a homemade cake.
On wednesdays its drumsession evening and its really relaxing sitting there listening to the music, look at the bonfire, talk to friendly locals and visitors from all parts of the world.
Recent Ratings
Vote
from on
Vote
from on
Vote
from on
Vote
from on
Vote
from on