Talk Back Car Rentals.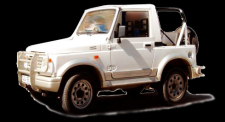 Explore our island paradise in one of our rentals. Our vehicles are well maintained and are fully loaded to meet all of your needs.
Being well suited for our terrain, our SUV's will make your driving experience truly enjoyable while you discover beautiful Carriacou.
Please send us more info about this car rental company and exact location of the office.
Send an email to the Talkback car rentals on Carriacou.
Recent Ratings
Vote
from on
Vote
from on
Vote
from on
Vote
from on
Vote
from on