L'Esterre – The Fountain bar and restaurant.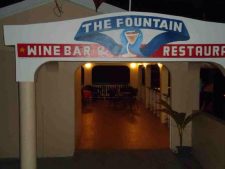 Wine Bar and Restaurant.
If travelling to Carriacou it would be a shame not to visit the fountain.
Crispin is the manager of this fine restaurant and wine bar.
Location  on the map is not exact yet.
Please send our administrator the exact coordinates and more info.
On the tiny 13 sq. mile island of Carriacou dining options range from local roadside barbeque, beach front bars, and a few fine dining spots.
If you are looking for the fun of local spirit, absolutely delicious home made dinners, an amazing selections of wines and a breath taking beautiful view overlooking Sandy Island and the turquoise blue Caribbean sea.
The Fountain Wine Bar and Restaurant is an excellent choice.
Reservations are suggested to enable you to discuss your dining options.
Favorites include a Chinese offering which might include, baby ribs, fried rice, shrimp and addition Asian treats.
Lobster season offerings are a must.
If you are lucky, ask if Fish and Chips are available….simply lovely and prepared with love by Irma, her husband and co-owner will mix you a proper cocktail or review his extensive selection of wines from California, So. Africa, Australia and Chile
Recent Ratings
Vote
from on
Vote
from on
Vote
from on
Vote
from on
Vote
from on