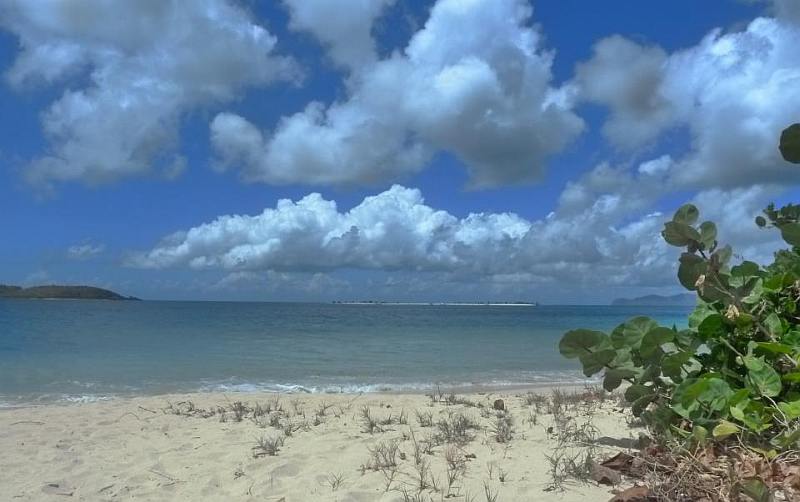 Lorraine Seattle
View of Sandy Island in Paradise Bay - L'Esterre on Carriacou.
Standing on Paradise beach looking towards Sandy Island.
You get to the island with a water taxi.
Cobra's Water Taxi leaving Paradise Beach towards Sandy Island.
Video of Sandy Island.
On the beach here are several small bars like banana jo's bar and Hard wood bar and snacket.
At these places you ask the bartender if they can arrange a taxi ride to Sandy.
Tell the man of the water taxi at what time you wish to get picked up again.
Bring a cooler with provision and sun block.
Ah... don't forget to bring your snorkling gear.
On this picture of Sandy Island you see the lagoon where you can snorkel.
In 2004 Sandy Island was destroyed by Hurricane Ivan.
In response Grenada designated the island a nature reserve.
Now, the spot is famed for its marine life, bird watching, and of course, it's beach where snorkeling is popular.
Positioned on the island of Carriacou, Sandy Island is on the West coast of the island.
You should think about stopping by whether or not you're staying in the immediate vicinity. For a change from the usual crowded beach spots, you should consider visiting Sandy Island.
How to Access The Beach of Sandy Island.
Sandy Island is only accessible by boat, though mooring is no longer allowed.
There are several buoys just off shore Sandy Island.
The beach on Sandy Island exists as an inverted crescent, scooping out into the ocean rather than into the island as is common in the creation of bays.
The beach features white sand and bright blue waves, with coconut trees lining the shore.
Unfortunately, public restrooms aren't available, but you may be able to find facilities at a nearby business on Paradise beach.
The water in the area is of good snorkeling quality.
Grab some equipment if you want to check out what lies beneath the surface.