Sherwin's Lambi Queen water taxi and day trips to the Tobago Cays.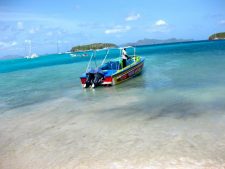 When in Carriacou ask for Sherwin and Nathan at Lambi queen restaurant and they will show you around to all the wonderful places in Carriacou and the Grenadines. A 25ft speedboat does trips to the Tobago Cays. 100 us per person, a very good day out.
Tour guide and water taxi.
Stopping by Palm Island, then the cays, swimming with turtles, then on to another Cay for a very good local lunch (extra).
Go off to Mayreau, Saltwhistle bay for a cocktail.
Happy Island which wil finish you off!
Definitely the best value for money and entertainment trip.
"We took the full day tour of the Tobago Keys and enjoyed every minute.
Captain Sherwin is a skilled seaman and loads of fun.
First mate Marlon is an absolute treasure."
"The seas were a bit rough and the sun didn't always shine but we took that as part of the adventure. It did rain briefly but it didn't dampen our spirits.
We just took our drinks into the water and continued the party.
We snorkled along a reef and saw many interesting fish, sea turtles, and sting rays."
See iguanas in their natural habitat.
Stop for an island BBQ lunch which rivals many 4 star resorts.
Happy Island is a riot, a truly unique experience.
" We enjoyed the trip so much we booked another tour later in the week to the deserted White Island where the sun shone bright and the rum punch flowed freely. "
Recent Ratings
Vote
from on
Vote
from on
Vote
from on
Vote
from on
Vote
from on