Wayne's Auto Rentals & Car Services Carriacou.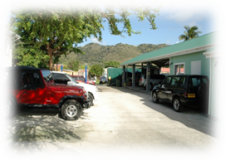 Wayne's Auto Rentals &amp Services.
This company is owned and managed by Wayne Bullen with a staff of ten.
The strength of Wayne's experience and well established customer base will give the business the competitive edge not offered by any.
He has worked his way through the trade learning and gaining experience for several years and now possesses his own.
The business is located on the Esplanade, Main Street Hillsborough; Carriacou.
Wayne's Auto Rentals & Services provides quality and efficient two and four doors car rentals.
We offer exterior wash, interior cleaning and detailing of all vehicles.
We take care of auto repairs and we sell a wide variety of office fixtures, automotive oils, car accessories and electronic tools: compressors, sockets, power cables, battery chargers, tool kits and much more.
There is also a bar service of which customers enjoy while awaiting a car wash or repairs. The bar service runs through the night as well if you are looking for a place to just hang out.
Wayne's Auto Rental & Services, offer 100% satisfaction to all our customers.
Our customers are our number one concern.
That's why we provide only the highest quality products available, and only the highest quality service possible.
We offer products for all your needs at one location for the right price.
So drive in, take a walk by and come check out Wayne's Auto Rental & Services we are ready to serve you.
Tour With Ziggy At Wayne's Bar's, Garage & Auto Rental Service.
Waynes on Facebook.
Contact Wanes Auto Rentals by mail.
Recent Ratings
Vote
from on
Vote
from on
Vote
from on
Vote
from on
Vote
from on