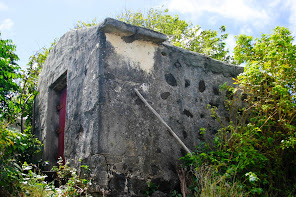 Grenada and the Grenadines - admin.
Storage house for ammunition.
A building with very thick walls, to protect the area from accidental explosions.
This so called dead house is a remain from colonial times when powder had to be stored safely.
Carriacou has changed hands several times, mainly between the French and English.
Usually there was some form of battle before these islands changed hands.
Hence there was a need for a steady supply of gun powder.
Most islands had their own dead houses for the storage of black powder.
This was the main storage for weaponry on Carriacou.
During the Grenada revolution there was a huge explosion at the belair estate.
That was the main barracks for the PRA army, and still nobody knows what caused that explosion.
Had they stored the explosives in this dead house, then there might not have happened a thing at the Belair Estate.