Information for the first time visitor of Carriacou.
When I first heard of the Caribbean Island of Carriacou they said :
You'll like it a lot, but it is not for everybody's taste.
How right my friends were.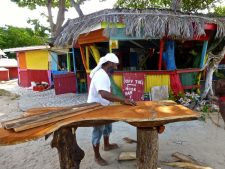 Indeed , I love the Island, the scenery and its people.
But it should allso be very clear that the average tourist will miss a lot of conveniences on Carriacou.
There are no casinos or nightclubs here, and you will search in vain for an inflateable banana behind a speedboat.
Jetski's I have never seen here, and I hope they will not reach the island for many years.
What can you expect on this little island?
Well, it depends of what you enjoy doing, but basically the Island is ideal for the " alternative " type of tourist.
Backpackers and adventurers will have a great time.
If you enjoyed the sixties, visited woodstock and were a member of hare krishna, this is the place for you.
Someone who enjoys or has enjoyed hitchhiking and meet local people will have a blast of a time.
Carriacou is mainly about living the true Caribbean atmosphere, without all the disadvantages so often encountered on other islands.
Here you will not get hassled by street or beach vendors.
It is no problem at all walking on the beach or the streets in the middle of the night.
You might have an encounter with a goat or a cow, the animals usually roam free over the island.
Everybody knows which animal belongs to whom.
There is still a good social control on Carriacou.
Most people are somehow related to each other, the Islands population is basically one large family.
That has contributed to a friendly , open atmosphere, and if you have once been here and return, you will also be (to some extent) part of
this large family.
Give a smile, and you will receive two smiles.
In the rumshops you will easily make new friends, a glass of punch usually gets some great conversations going.
The island is definitely not for those who have a craving for luxury and hedonism.
If you enjoy places like Cancun , Rio, Brighton or Benidorm and Ibiza in Spain, you will have the most boring holidays of your life.
If , on the other hand , you are like me, enjoy relaxing in a hammock below some palm trees.
Sample the various rums while chatting with the islanders, this could the place for you.
Recent Ratings
Vote
from on
Vote
from on
Vote
from on
Vote
from on
Vote
from on