Hillsborough – Laurena Jerk Center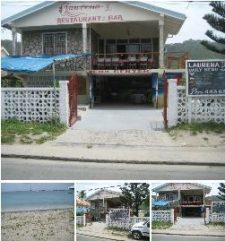 You approach this popular restaurant and bar just a few giant steps from the ferry wharf.
Although his menu also includes other local and regional dishes.
Curried goat, baked chicken, or grilled fish with rice and peas.
That's the specialty (and personal favorite) of Chef Purgeon Reece, who hails from Negril.
Daily specials are posted on a street-side blackboard.
You're greeted by the unmistakable scent of authentic Jamaican jerk chicken and pork.
This "jerk center" is definitely a casual spot, the best bet for a delicious lunch, and a good place to catch the local vibe.
Recent Ratings
Vote
from on
Vote
from on
Vote
from on
Vote
from on
Vote
from on