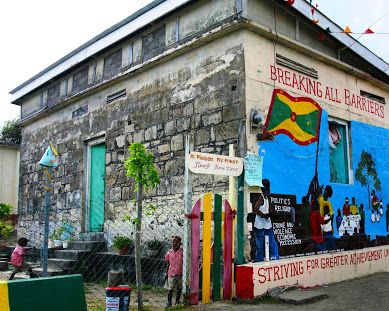 Grenada and the Grenadines - admin.
The cornhouse of Grand Bay.
One of the remains of colonial times that has not become a ruin, yet.
The old cornhouse is now being used as a preschool.
This prevents the building falling to bits, its structure is still sturdy and sound.
Local artists have painted the facade of this old building.
These old stones tend to get very grey.
For a more fresh look, often the only option is plastering and painting the walls.
Here in Grand Bay are several remains of the past.
An old mill , a cotton gin and sugar factory ruins, archeological findings and a fossil bed at the coast.