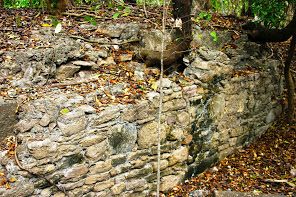 Grenada and the Grenadines - admin.
These estate house ruins are hard to find.
There is not a lot left of this plantation.
Only these foundations of the estate house are left.
This is the case with many of the old plantation houses.
At the time that these houses were built, around 1750 till 1850, there was still colonialism and cheap forced labor.
After the abolition of slavery most plantations declines.
Read about the history of Carriacou.
Since most plantations disappeared the agricultural activities are on a smaller scale.
More varied crops were introduced, mainly for sustaining the islander's needs for food.
Lime was an important crop after the price for sugar dropped drastically.
Some archeological remains and sites of historical interest in the vicinity.