Sailing around Carriacou.
Some of the best sailing in the world for recreational sailors, the Grenadines and Carriacou have perfect conditions for a sailing vacation.
Boat rentals and yacht charters are available on all islands of the Grenadines.
The sailing in the Caribbean is famous all over the world.
Trade winds provide a fairly reliable source for very enjoyable sailing trips.
The relative short distance between islands make the entire region ideal for island hopping.
Anchorages in the Grenadines.
The Grenadines are certainly no exception, specially the low location make the Grenadines ideal during the hurricane season to go in shelter.
Temperatures are ideal, specially when the breeze cools you down. rainfall is hardly a problem since it hardly ever rains longer then an hour here at sea.
While sailing it's allways worth trying to catch some fish.
Throw a line and you will probably catch something.
Carriacou Sloops building on video.
About the boat building in Windward.
There are plenty boats for rent, some with crew, others without It's a good idea to make up your mind about what type of boat you will want.
A catamaran has it's advantages regarding space and stability.
On the other hand many people will prefer the sensation of a sailing in a monohull.
Try booking a boat that is the right size for your group.
Otherwise you might end up in a boat with people who don't share your interests, and that could become an unpleasant experience.
Hurricane season in the Grenadines.
Bear in mind that the seasons change.
Some time of the year you could best be north in the Caribbean, and other part of the year the southern islands are more suitable for you.
Beware of sailing in the hurricane season, specially if you go up north.
The insurance premiums in the hurricane season for boats are a lot higher if you plan to sail in the hurricane belt.
That is the reason why many yachtsmen prefer to stay during that period in the waters around Trinidad , which are supposed to be out of danger for hurricanes.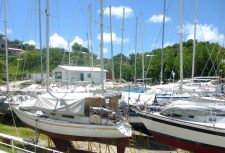 Strategically placed on Tyrell Bay, Carriacou's premier yacht anchorage, the Yacht Club caters specifically to the needs of the discerning Caribbean traveller. Our features within a self contained complex combine high levels of comfort with the finest services for guests and visiting yachts.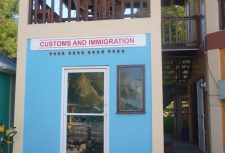 Carriacou Marine has been recently been appointed as a Port of Entry for yachts arriving from outside Grenada or Carriacou.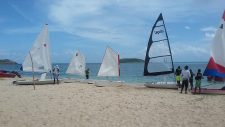 L'Esterre Junior Sailing (LJS) is located at the south end of Paradise Beach on beautiful L'Esterre Bay, Carriacou. The children meet every Saturday from 10 am to 1 pm. Volunteers and spectators are always welcome.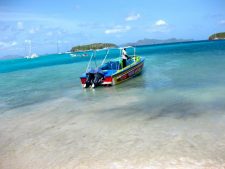 When in Carriacou ask for Sherwin and Nathan at Lambi queen restaurant and they will show you around to all the wonderful places in Carriacou and the Grenadines. A 25ft speedboat does trips to the Tobago Cays. 100 us per person, a very good day out.
Kick'em Jenny.
Near Grenada there is an underwater volcano, called Kick'em Jenny.
This volcano is active, and sometimes stirs the waters heavily.
It is wise practice to stay away from there, some boats have experienced serious trouble while approaching the site too close.
The Tobago Cays.
There are several water taxi's on Carriacou that are willing to take you to the Tobago Cays.
Be prepared for a fairly long journey and a rough ride.
Much nicer is visiting the Cays with a sailboat.
Anchorages in the Tobago Cays.
In
Tyrell Bay
on Carriacou you will find people who will sail over with you on their boat.
The rates vary, depending on boat and people on board.
Another option are the large catamarans which leave from Union Island.
Park fees for the Tobago Cays, for boats and divers.
The four-kilometer long Horseshoe Reef encloses four of the cays.
Petit Bateau, Petit Rameau, Baradal, and Jamesby) with the fifth cay (Petit Tabac) lying just outside the reef to the east.
Tobago Cays park rules.
Rules & Regulations
All scuba divers must be accompanied by staff from a registered local dive operator/shop.
Do not damage or destroy the vegetation. Remember that shoreline vegetation is essential for preventing beach erosion and stabilizing dunes.
Corals are fragile and grow slowly. While snorkelling or diving, do not touch the corals. Control your movements and your buoyancy.
Do not anchor in coral or sea grass beds, but use moorings where provided or select sandy areas.
Do not take any corals or other marine life.
Do not fish.
Do not buy lobster out of season (that is from May 1 to August 31).
Do not litter or leave thrash in the Par.k
Do not discharge bilge or wastewater in the Park.
Do not disturb nesting or roosting seabirds.
Do not exceed speed limit of five knots.
Kite surfing.
Kitesurfing on Union island.
Kitesurfing school on Union island in the Caribbean offers the best service for advanced Kitesurfers looking for the best Kitesurfing holiday or for the beginners looking to learn how to Kitesurf for the first time in the Caribbean with amazing weather conditions with shallow and clear water.
Day tours and sailboat charters.
Not the cheapest but Sailgrenadines have a very good choice of charters and day excursions on a sailboat.
Sailing Savy starts the sailing trip on Grenada, then up to Carriacou PM Union Island Tobago Cays up to Mayreay.
Your tour with Savvy begins at the Port Louis Marina in Grenada and continues on a few miles north to its sister isle of Carriacou.
From the moment you touch the sand of this 7 mile island, your experience embraces a new perspective on time.
It is here and on the island of Petite Martinique that the gateway to the other 32 idyllic islands is opened. Welcome to Grenada and the Grenadine Islands.
Sailing on the Scaramouche.
Scaramouche is 80ft of pitchpine and white cedar; 60 tons of traditional island craftsmanship, built in Carriacou by local shipwrights.
It offers the majestic feel of a big old schooner under sail: plenty of space and comfort, shade and sun.
You visit three anchorages:
MAYREAU: population approx. 200; one road; good snorkelling.
TOBAGO CAYS: five uninhabited islands on a horseshoe reef, white sandy beaches, crystal clear water, palm trees, snorkelling and peerless Caribbean land- and seascapes. Here you enjoy lunch cooked on the boat, with a choice of good wine, beer, juice and rum punch, dessert and coffee.
PALM ISLAND: a resort island surrounded by reefs, for a final bathing session.
From here it's 10 minutes back to Union Island, then an evening flight back to Grenada.
Info at Grenadasunsation.
The Scaramouche can also be booked at Erika's marine services at Union Island.
You will have to arrange for a flight or water taxi from Carriacou to Union.
Erika can also book you on one of the large catamarans that visit the Tobago Cays, like Yannis.
Caribbean Schooner Cruises Friendship Rose.
A 100ft Local Classic Sailing Schooner, built by hand in Friendship Bay.
Discover the Grenadines by Island Schooner.
Daily cruises to The Tobago Cays, Mustique, Bequia and St Vincent's Tropical Coast.
Dive or snorkel the coral reefs of the Tobago Cays.
Explore uninhabited islands and perfect coral sand beaches.
On board, full service is provided with the traditional crew of six and an excellent chef. Breakfast, lunch and Afternoon Tea & Cake served.
Drinks all day, all included.
Bookings through Heather Grant from Erika Marine from Clifton on Union Island.
T: 784.485.8335
F: 784.485.8336
Mobile: 784.533.2847
Captain Yannis Tours.
Catamarans sail on day trips to Mayreau (Saltwhistle Bay), Tobago Cays and Palm Island. Rates start at US$90 and include lunch, rum punch and lots of snorkeling. Schedules are flexible.
Email palm@vincysurf.com
Phone(784) 458 8513
Fax(784) 458 8804
L'Esterre Junior Sailing School.
Recent Ratings
Vote
from on
Vote
from on
Vote
from on
Vote
from on
Vote
from on