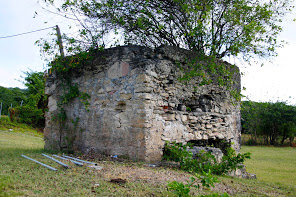 Grenada and the Grenadines - admin.
Ruin of the sugar factory in Grand Bay.
Unlike many other ruins on Carriacou, this old sugar factory is not overgrown.
It is clearly visible in the fields surrounding the ruin.
If you are on the east coast of Carriacou you will find quite a lot of remains from colonial times.
At grand bay there are fossil beds and archeological findings of Amerindian civilization on the island.
The Tibeau well is a bit more north.
The cemetery at Tibeau is slowly disappearing in the ocean.
Mills for the processing of sugar cane.
Below a number of the old mills on Carriacou.
These are now all in disfunction.
None of them have the wings anymore, some are otherwise still in a reasonable condition.