Craigston Great House.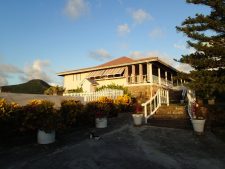 Old colonial mansion in fantasttic condition. Ona private estate overlooking Carriacou. A piece of caribbean history. 
Large villa for rent on Carriacou.
Great House in Craigston.
The Great House has 4 bedrooms.
In addition there are 4 bathrooms in the villa.
This rental property is suited for up to eight guests.
Sundeck with jacuzzi.
Craigston Great House is the last Historic Plantation Great House property on Carriacou.
The villa is dating back over 230 years.
It sits on a commanding, breezy, site with great ocean and nearby island views.
There are over 10 acres of landscaped grounds attached.
The property has been in the Kent family for almost 90 years.
Its history goes back to Scottish ownership in the 18th century.
It was then when the plantation produced mostly cotton.
The house has recently been fully renovated in 2013.
An added sundeck, outdoor whirlpool Jacuzzi , barbecue, and outdoor pantry and bar.
A great enclosed outdoor shower for sand removal after sea bathing is provided.
The house comprises 4 large screened en-suite air-conditioned bedrooms.
Furtermore Craigston Great House has a central great room/living room.
North and south facing verandahs, amongst which a verandah dining for 8.
The Craigston Great House has a large, fully equipped kitchen.
Apart from that there is a library and TV room.
Stereo with docking port and WiFi are also supplied.
As one drives up to the house is a 50 thousand gallon water tank dating back to 1785.
This tank collects rainwater for household use.
The water tank has very thick walls and an arched roof.
Outside there is a walled courtyard with flagstone paved floor.
This used to be a cotton store.
The remains of an old fort with an intact powder store building are still existing.
Apart from that a  couple of cannons and old memorial headstones of ancient British soldiers show the history of this great house.
There is a large enclosed kitchen garden and plant nursery.
These are providing herbs and vegetables in season for the kitchen and flowers for the house.
There are a housekeeper/cook and 2 gardeners.
They have been with the property for many years.
The housekeeper and gardeneners normally work 7 hours a day Monday to Friday.
Faithlyn our housekeeper works every weekday.
She is available on weekends by special arrangements.
Faithlyn is an excellent cook and will help you enjoy the local specialties.
Included in your stay is a welcome drink or two.
We provide for a home cooked Caribbean meal your first night at Craigston Great House.
Recent Ratings
Vote
from on
Vote
from on
Vote
from on
Vote
from on
Vote
from on