Craigston Chapel holiday rental.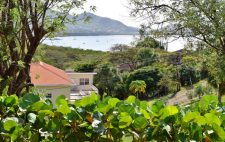 Converted chapel suitable for two guests. Very affordable and original place to stay on Carriacou. Private location.
Converted chapel on grounds of the Craigston Estate.
This cottage has one bedroom and one bathroom.
Hence the Craigston Chapel is best suited for two, but a third person could be accomodated as well.
Economic place to stay on Carriacou.
Craigston chapel was built in the 1930's.
Location is on the grounds of Craigston Great House.
The great house itself built was in 1784.
Purpose of this chapel was serving the Catholic community of the nearby village of Bogles.
The story goes that the completed building was never consecrated, as plans changed.
Over time the building was used as a store room and an animal pen.
The building lost the roof in a long forgotten hurricane.
Therefore it was refurbished as a cottage in 1968.
Craigston Chapel has recently undergone another up-grade and modernization.
The building has very thick stone walls.
As a result the interior is very cool.
The Craigston Chapel was built in European Farmhouse style.
Essentially there is only one room internally with a partition.
This partition seperates the bedroom from the open-plan living, dining and kitchen areas.
On each side of the building there are extensive verandas, giving a choice of lounging space.
The verandahs serve to avoid the sun as it moves overhead.
They are also great to catch the constant breezes on the Eastern side.
From here you see the glorious sunsets over the Harbour on the Western side.
This vacation rental was built on the Great House grounds.
The Great House property comprises 10 acres of landscaped gardens and orchards.
Craigston Chapel is far enough from the main house for it to be completely private.
Although accessed through the main gate, the vacation house has its own side drive and parking.
This is a very charming, very breezy cottage, with all needed amenities including free WiFi and internet radio, and lovely views of the town and harbour.
It is nestled against park-like mature trees on the Eastern side.
The Chapel is cleaned weekly including a change of linen and towels.
Beach towels are provided as well.
This cottage is ideal for a couple.
It could accommodate one other adult or child on a roll away if desired.
It is within easy walking distance of the main town of Hilsborough and several beaches.
This is an ideal, historic and very affordable, location from which to explore and enjoy Carriacou.
Recent Ratings
Vote
from on
Vote
from on
Vote
from on
Vote
from on
Vote
from on