East of Mabouya Island is this calm dive spot called the Whirlpool.
Diving at Mabouya island.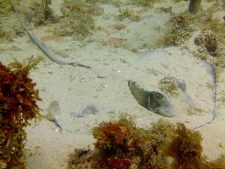 Max. depth: 23m/75ft
Level: Easy and relaxed.
This dive site is ideal for beginning divers.
There is not a lot of current here at the whirlpool and many things to see.
Sandy patches and corals in many varieties.
Near Mabouya there are several other diving spots like the twin wrecks westsider and the boris.
Those diving spots are on the west side of Mabouya, where the currents are generally stronger then on this leeward side of the island.
The whirlpool is a gentle dive site with lots of stuff to see!
Bubbles from volcanic activity coming to the surface.
Reef with lobsters, moray eels, stingrays, critters.
Wreck in the whirlpool.
Here you find also a small tugboat in 24 meters (80 feet), which sunk 2001.
You still can go behind the wheel and steer your way underwater !
It is one of the safest wreckdives you can imagine.
And furthermore, the scenery at Mabouya underwater is astounding.
Recent Ratings
Vote
from on
Vote
from on
Vote
from on
Vote
from on
Vote
from on