Diving at Point Cistern on Carriacou.
Point Cistern is a very convenient located site for an easy dive.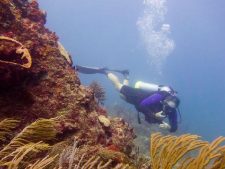 Max. depth 18m/60ft
Level: Drift, easy & relaxed
Dramatic volcanic cliffs & boulders.
Many seafans and fish of all sorts make this an interesting dive, for beginners as well as for advanced divers.
This divesite is close to the shore of L'Esterre Bay.
Nice spot for divers without a lot of experience.
Point cistern is ideal for beginners at scuba diving.
The lack of current and shallow reefs make it a very relaxing divesite.
Once you submerge in the crystal clear waters, the scenery inmediately shows an very healthy reef.
Occasional turtles passing by, seafans wave hello to you.
For those who are not divers there are good options for snorkeling a bit closer to the coast.
There is not a lot of current as long as you stay close to Point Cistern itself.
Recent Ratings
Vote
from on
Vote
from on
Vote
from on
Vote
from on
Vote
from on